We all know that Malaysia is home to a wide variety of people, cultures, religions and of course food. The food is particularly memorable because it is a physical representation of the vibrant diversity the land and people have to offer. Malaysians are proud of their rich cuisine, and a massive part of that cuisine is Nyonya food.
The History of Nyonya Food
Nyonya food developed alongside the Peranakan people. Peranakan roughly translates to 'locally born and bred' and is the term used to describe the descendants of Chinese people who moved to Malaysia and intermarried with local Malays. These Chinese migrants first settled in Penang and Malacca as these were bustling Dutch and Portuguese colonies offering them plenty of new opportunities for work and business. As they began to marry locals, the two cultures wove together to develop something entirely new and different: Peranakan. They combined their beliefs, traditions, languages and – of course – food.
As in so many traditions, the women were charged with cooking food for their families and, as this new Chinese-Malay fusion became more popular, it was nicknamed after the talented women who made it. Nyonya is the term for a Peranakan woman.
What is Nyonya Food?
Nyonya food (also referred to as Peranakan food) is a vast array of dishes which often hold similarities to classic Malay dishes but with a Chinese twist. The key ingredients in Nyonya food include coconut milk, galangal, pandan, tamarind, lime, belacan, chilies, petai and spices.
Nyonya cooking is a slow and meticulous process. Chefs marinade their food, sometimes for days, in order to produce the best possible flavours.
Nyonya food is greatly influenced by where it was developed. Nyonya dishes that originate from the Penang region often hold more similarity with Thai food, whilst the dishes originating from Malacca tend to resemble Indonesian dishes.
Another wonderful aspect of Nyonya food is that no two dishes are ever the same. Recipes are so varied and are often handed from one generation to another. So, one Nyonya's Laksa Lemak could be vastly different, yet equally delicious to another's!
Popular Nyonya Dishes You Have to Try
Assam Laksa
Noodles floating in a hot and sour bath of fish broth with vegetables. This is one of the most quintessential dishes in Nyonya cuisine. When made correctly all the flavours in this dish balance out perfectly, especially with the salty addition of belacan paste. This dish originates from Penang-based Nyonyas and can be found in just about every market-stall and eatery in and around the area. As mentioned before, Penang Nyonya dishes are reminiscent of Thai cooking which is evident in Asam Laksa by the presence of the holy combination of spicy, salty, sweet and sour elements.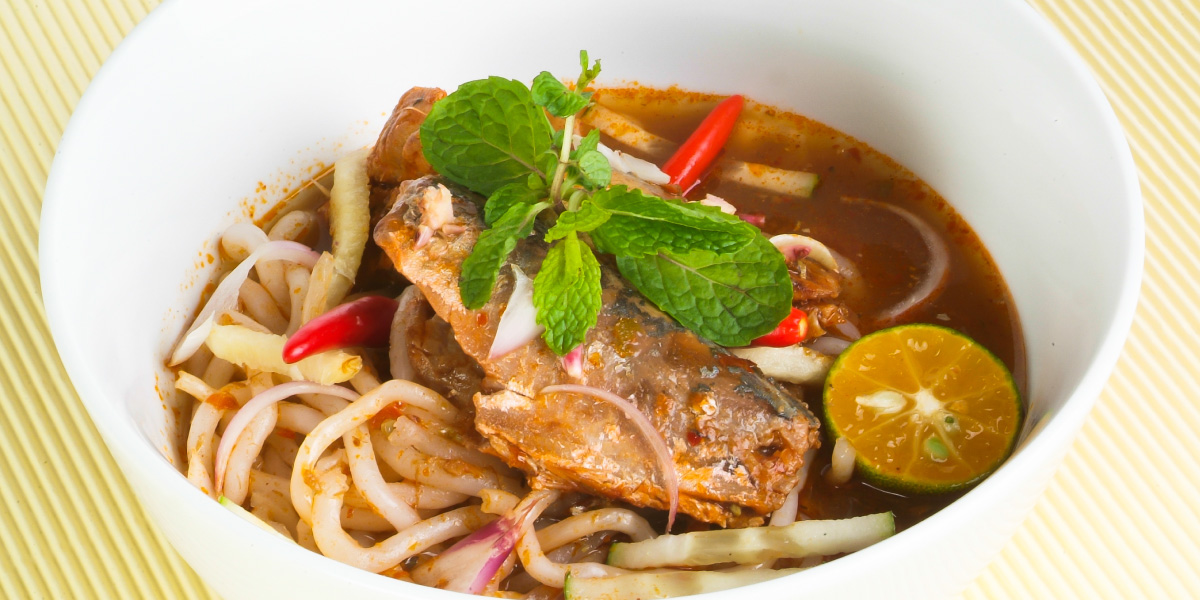 Ikan Cencaru
This popular Nyonya dish comes in the form of fish stuffed with sambal and then deep-fried whole. Often served on a banana leaf with a side of cooling cucumber, it is a great dish to order for a table to share. Both Penang and Malacca based Peranakan people relied heavily on the sea as a source of food and it shows in dishes such as this.
Laksa Lemak
This fiery curried laksa hails from the Malacca Nyonyas. The coconut broth is laced with a long list of aromatic spices, telling of the diverse spices passing through the ports of Malacca at the time of Dutch and Portuguese occupation. This spicy soup can be ordered with a number of fillings, often it comes with chicken, seafood and tofu for a fully-loaded flavour experience!
Otak-Otak
This is Nyonya fast food at its finest! Available from street vendors as a nutritious and filling on-the-go snack, Otak-Otak is a savoury custard with fish baked in banana leaves. The word 'custard' can be misleading, so think of it as a baked omelette. The key ingredient to getting the true Otak-Otak flavour is betel leaf which adds a bitter pepperiness to the creamy, eggy fish.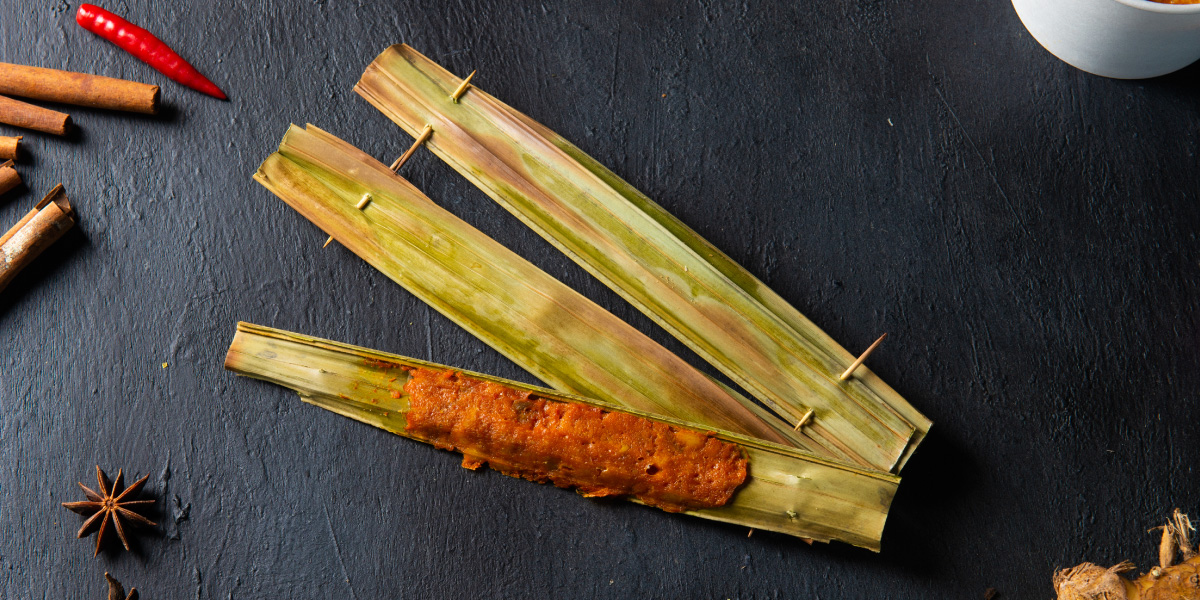 Pai Tee
A fun, playful starter that should be part of any order at a Nyonya restaurant. These cute little pastries resemble upside-down top hats and are filled with prawn meat and vegetables. Often served with a side of sweet chilli sauce, these are delicious and it is almost impossible to stop at one! Some new Nyonya chefs are beginning to experiment with dishes like this and bringing new and inventive fillings to the top hat pastries.
Sambal Petai
Petai, a bean so smelly you can probably smell it just from reading the name! However, the bean is creamy, delicious and a regular in Nyonya food. This particular dish consists of prawns stir-fried with those pungent petai beans which are then served in a sweet and spicy sambal sauce. If you have never tried petai, or think that you don't like them, you should definitely try this dish – it is sure to change your mind!
Cendol
Now for a Nyonya dessert. Cendol is a Nyonya-lovers favourite and the flavours differ from market to market and restaurant to restaurant. Cendol consists of jelly-like noodles made from glutinous rice flour in a syrup of coconut milk and palm sugar. The noodles are typically bright green. Newer versions of this dish are cropping up around Malaysia with different colours and flavours, such as pink with rose water and even yellow with durian.
Authentic Asian Flavours
Nyonya dishes taste delicious but they usually take hours of preparation. The difficulty and tediousness of the cooking process are usually seen as a symbol of passion and love.
But modern home chefs are no longer afforded the luxury of spending hours in the kitchen. If you're looking to retain the authenticity and tastes of Asian flavours while cutting your preparation time, consider using Mak Nyonya's range of instant cooking pastes. Mak Nyonya finally presents convenience and simplicity in cooking with a healthy range of delicious Asian ethnic sauces.