Hailing all the way from Australia, Tim Tam has been a staple in Australian households since its creation in the 1960s. This iconic and beloved treat is made up of two malted biscuits with a creamy chocolate filling in between them, all coated with a thin layer of textured chocolate. The combination of the crunchy biscuit, creamy filling, and rich chocolate coating made Tim Tam one of the most popular chocolate biscuits in Malaysia. With their unique texture and irresistible flavour, they have captured the hearts of people worldwide. Let's take a look at the brief history of Tim Tam and how it has become an Australian cultural phenomenon.

Creating Tim Tam
In 1964, Arnott's launched Tim Tam for the first time in the Australian market. "Tim Tam" was named after a horse that competed in the Kentucky Derby in the United States. The Arnott's company had a tradition of naming their new biscuits after racehorses, and Tim Tam was no exception.
The production line at the Huntingwood bakery in Western Sydney produces 3,000 Tim Tam biscuits every minute. It requires 20 tonnes of cream filling and 27 tonnes of chocolate coating each workday. The biscuit dough, consisting of sugar, flour, colors, and flavors, is mixed for a duration of 20 minutes. Next, the dough is cut to a thickness of 1mm and 11 holes are punched in each biscuit. The biscuits are baked in gas ovens for a duration of 90 minutes. Freezing air is used to cool the biscuits after they have been baked. They are then flipped, filled with cream, dunked in chocolate, and cooled again.
Over the years, the popularity of Tim Tam grew as people often enjoyed them with their afternoon cuppa or as a sweet treat after dinner. It quickly became a symbol of indulgence and comfort, and it became an Australian household essential. It also helped that they had a monopoly on the Australian market.
Marketing and New Flavours
In the 1980s, Arnott's introduced new flavours and variations of Tim Tam to cater to different tastes. Some of these flavours included dark chocolate, white chocolate, and caramel. These additions further solidified Tim Tam's status as a must-have snack in Australia. However, the real turning point for Tim Tam's popularity came in the 1990s. Arnott's launched the Tim Tam Slam campaign, which encouraged consumers to bite off opposite corners of the biscuit and use it as a straw to drink hot beverages like tea or coffee. The hot liquid would melt the creamy filling, creating a deliciously gooey treat. The Tim Tam Slam became a fun and popular way to enjoy the biscuit, and it created a cult following for Tim Tam both in Australia and internationally.
In recent years, Arnott's has continued to innovate and release limited edition Tim Tam flavours, such as doughnut, salted caramel, and coconut cream, and even collaborations with other brands like Krispy Kreme, Cadbury, and Nutella to keep the brand fresh and exciting while maintaining the classic Tim Tam experience. These variations further expand the reach of Tim Tam and bring a beloved Australian icon to an international audience. Arnott's has also released a range of merchandise based on Tim Tam, such as mugs, t-shirts, and even plush toys. This allows fans to show their love for the beloved biscuit in new and creative ways.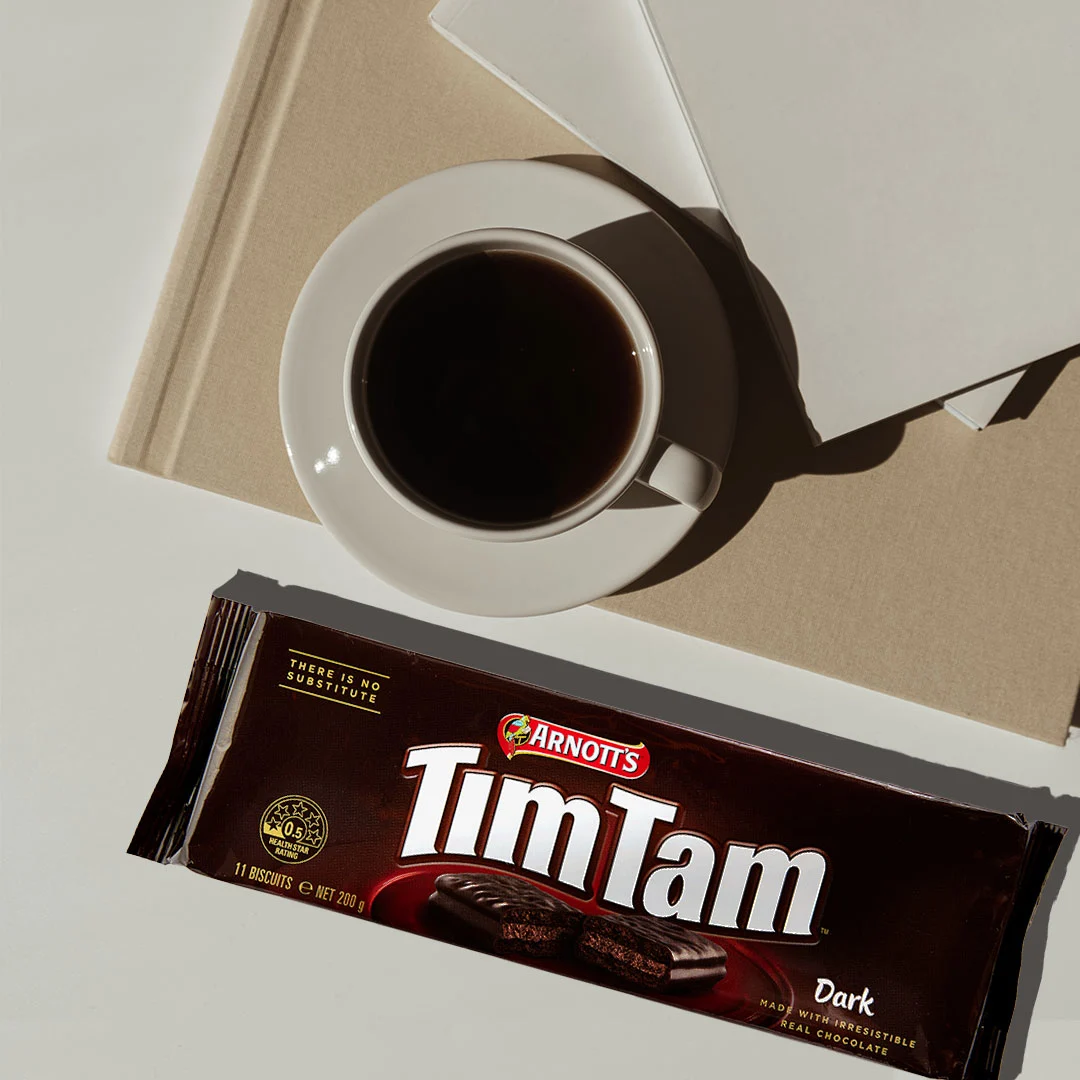 Tim Tam Today
Today, Tim Tam is not only a beloved biscuit but a cultural icon in Australia. It has become a symbol of Australian identity, with people often gifting boxes of Tim Tam to friends and family abroad as a taste of home. Tim Tam has also expanded its reach globally and is now widely available in many countries, including the United States and the United Kingdom.
Tim Tam has come a long way since its humble beginnings in 1964, and it remains a beloved biscuit all across Australia and beyond. Whether you enjoy them plain, with a cup of tea or coffee, or even in other forms like ice cream or doughnuts, Tim Tam is sure to bring a smile to your face.
Sangla Foods is a distributor for Arnott's and carries Original, Dark, Double Coat, and Chewy Caramel Tim Tam if you are interested in trying these delicious Australian biscuits. You could try dunking it in some 137 degrees plant milk too.