Woh Tempeh Chips are made with carefully selected soybeans before processing them in a modern and hygienic facility in Jakarta, Indonesia. Our tempeh chips are thinly sliced and kettle-cooked to achieve our unique flavour and crunch.
About Our Brand " WOH "
"Woh", it came from the Javanese language "wohwohan" means fruit. We hope that our company will grow and give benefits to others.
Benefits of Woh Tempeh Chips :
Superfood snack
100% Delicious
Gluten free
No Preservatives
Handcrafted kettle cooked
Resealable Zipper Pouch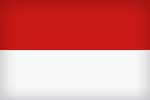 Enjoy Woh Tempeh Chips in Malaysia