According to research, olive oil is the safest and healthiest oil that everyone should use to cook. The famous Mediterranean diet that has helped millions of people lose weight and live long, fruitful lives boasts the nutritional benefits of incorporating olive oil into their everyday meals.
If you want to learn how to cook equally delicious and nutritious foods, here are 5 olive oil recipes you have to try.
1. All-Purpose Pesto
Everyone needs a good pesto recipe in their arsenal because it takes a couple minutes to prepare and it never fails to satisfy. Most people use pesto for pasta, but it can do so much more. Try using this recipe with pasta or use it to coat roasted potatoes, spread it on a sandwich, or drizzle it on homemade pizza.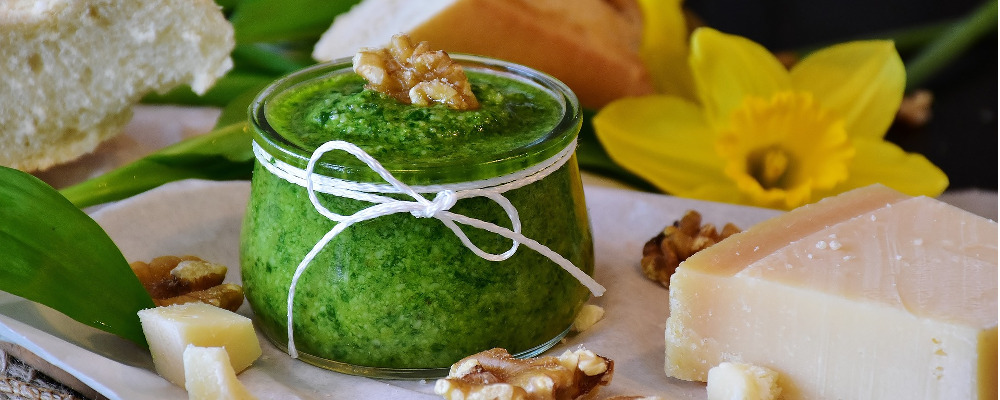 Ingredients:
2 cups of basil leaves
1/4 of a cup of pine nuts
2-3 cloves of garlic
1/2 of a cup of olive oil
1/2 of a cup of parmesan
Instructions:
Combine all of these ingredients in a powerful blender until a smooth consistency is achieved.
2. Olive Oil Lemon Cake
Everyone knows that cooking with olive oil is healthy, but most people don't know that baking with olive oil is just as heavenly! While most baking recipes call for more neutral oils, this cake is one of the many awesome recipes with olive oil that complements its distinct flavour.
Ingredients:
1 1/2 cups of granulated sugar
5 eggs
Zest of 1-2 lemons
1/2 of a cup of lemon juice
1/2 of a cup of olive oil
2 cups of all-purpose flour
2 teaspoons of baking powder
A pinch of salt
Instructions:
Preheat the oven to 350 degrees. Coat a 10-cup bundt pan with non-stick spray. In a bowl, mix sugar, eggs, lemon zest and juice, and olive oil until smooth.
In another bowl, combine the flour, baking powder, and salt. Slowly incorporate the dry ingredients into the wet ingredients.
Pour mixture into bundt pan and bake for 35-40 minutes or until toothpick comes out clean. For a simple glaze, you can combine 1/2 of a cup of powdered sugar with 2 tablespoons of lemon juice. Whisk together until smooth and drizzle over cooled cake.
3. Olive Oil Recipes for Salad Dressings
Other oil recipes can be too heavy. Olive oil is the perfect base for any salad dressing. Try this one!
Ingredients:
3 tablespoons of olive oil
1 tablespoon of balsamic vinegar
Salt and pepper to taste
1 minced garlic clove
1 teaspoon of dried oregano and basil
Instructions:
Whisk all of these ingredients in a bowl then toss into your favorite salad mix.
4. Olive Oil and Herbs for Dipping and Marinating
This olive oil mixture is packed full of herbs and garlic to create a rich flavour palate. You can use this recipe as a dip for your bread or try using it as a marinade for your favorite meat or vegetables. If you want to know the best olive oil to cook with, here are some helpful tips.
Ingredients:
1/4 of a cup of olive oil
5 cloves of diced garlic
2 tablespoons of balsamic vinegar
1 tablespoon of oregano and basil
1/2 of a teaspoon of crushed red pepper
Salt and pepper to taste
Instructions:
Combine all of these ingredients in a dish to dip bread into or seal in a plastic bag with meat to marinate overnight.
5. Traditional Italian Soup
Minestrone soup is a hearty, comforting dish. This soup is vegetarian and vegan friendly, which makes it incredible for your health. If you want to cook like a real Mediterranean, try this recipe.
Ingredients:
3 tablespoons of olive oil
1 white onion
1/2 of a cup of diced zucchini
1/4 of a cup of diced celery
4 cloves of minced garlic
4 cups of vegetable broth
3 cups of water
2 15 oz cans of kidney beans drained and rinsed
1/2 of a cup of shredded carrots
1 tablespoon of dried parsley
2 teaspoons of dried oregano
2 teaspoons of salt
1/2 of a teaspoon of pepper
4 cups of chopped spinach
1/2 of a cup of shell pasta
Instructions:
In a large pot, heat olive oil and cook onion, zucchini, celery, and garlic until softened. Add broth, water, beans, carrots and spices. Let simmer covered for 20 minutes.
Remove the lid to add in spinach and pasta. Cover and cook for another 20 minutes. Serve and enjoy.